Discovering Earth Sciences Interactive Teacher's Workshop
Summer 2020 DESW Inquiry-based Field Experience for Teachers is now accepting Applications.
Postponed until July 2021.
See below or click Here, for more information. Applications are available Here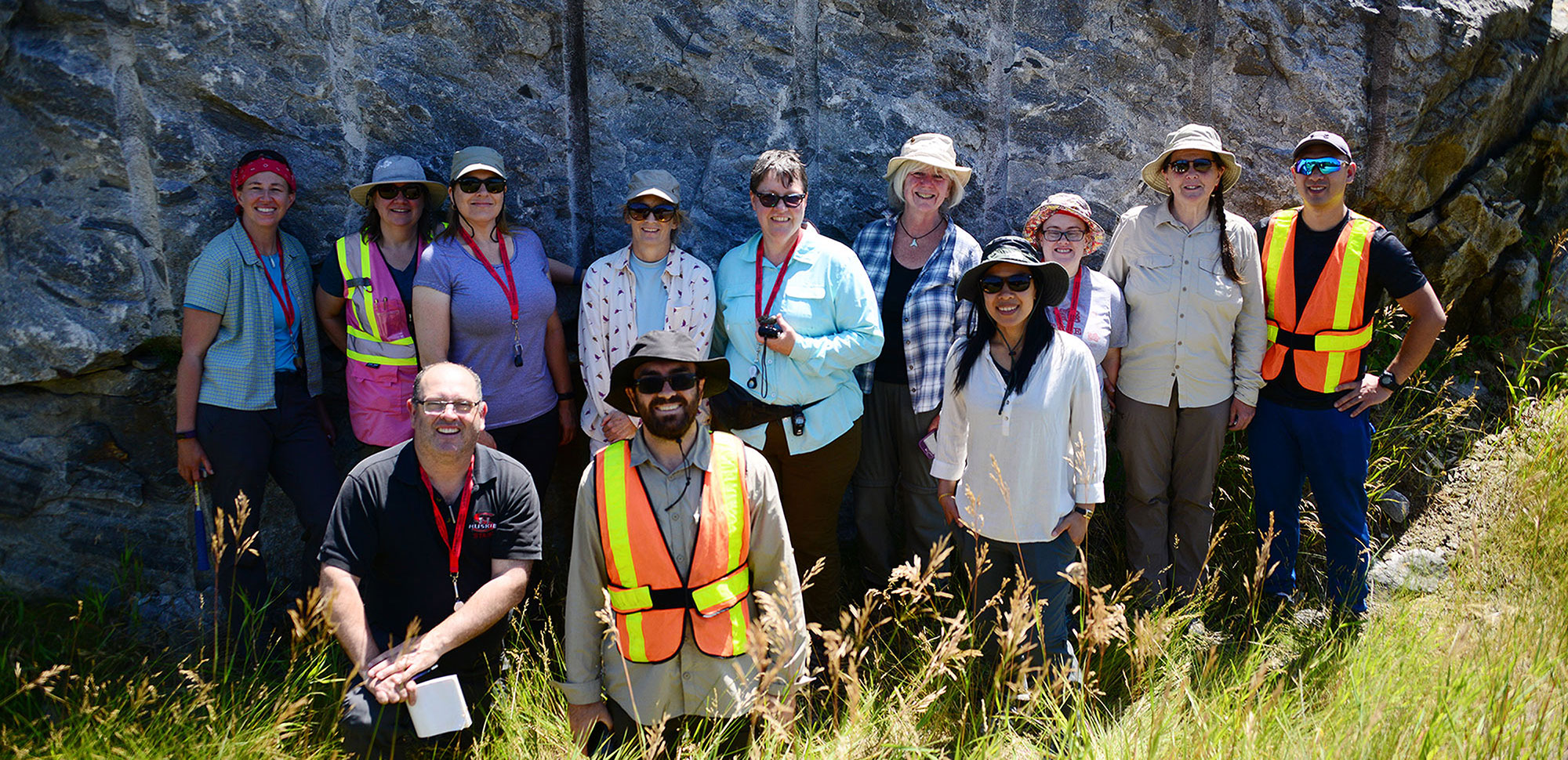 Our interactive teacher's workshops offer educators the opportunity to learn about Earth Science in a hands-on, collaborative atmosphere that fosters deeper understanding of processes and concepts. By providing activity ideas and approaches that can be taken back into the classroom, as well as teaching materials, participants build their confidence and create supportive networks of colleagues.
Each year we build a program which can be a two day workshop combining classroom activities and field trips, a one day field trip to local geologically significant sites that can provide a base for their own class trips, or a week long field experience which allows for more focussed insight into processes and concepts along with ideas for introducing more inquiry into science teaching.
More details about programs:
DESW Two day workshop format begins with a light dinner and talk on Friday evening, followed by a day of in-class sessions on Saturday with topics such as Rock or Mineral investigations, Natural Hazards, Earth Resources including mineral and water resources, and concludes with a full day field trip on Sunday. This format is intended to provide educators with focussed time to learn and think about classroom delivery of the offered topics, and then an opportunity to see how field excursions enhance that understanding at places they could take their own students. Participants leave with an Earth Science Teaching Resource Kit containing mineral, rock and fossil specimens, maps, posters, and a USB containing digital resources ready for use in the classroom worth approximately $150. The two day workshop fee is typically $50 and includes Friday dinner and two lunches.
DESW Field Trip is a full day field trip to local geologically interesting sites chosen for both their educational and exploration value as well as their accessibility and safety. Some field trips have been to local Aggregate operations so that we can investigate the stone, sand and gravel pits and quarries in the local area, and learn about how they provide a glimpse into the geological history of the region, and see how vital they are to our everyday lives. Field trip fee includes lunch.
DESW Inquiry-based Field Experience for Teachers, first offered in July of 2017, is a week-long field excursion.  The excursion is based out of one central location with daily visits to spots that help to illustrate geological concepts and processes.  We look at modern environments to see how materials are being moved and shaped in the present, and look at ancient rocks to try to understand what has happened in the past. We use inquiry methods of investigation, building a team of learners that works together to solve geological puzzles. Our first attempt at this program was a great success (based on the reviews of our inaugural participants), and we will be offering it again July 5th to 11th, 2020.  It will once again be based at Queen's University Biology Research Station. Participants will receive a learning resource kit with geological tools and sample collecting kits as well as maps, field guides and other resources as needed (approx. $200). Thanks to generous grants and committed funding from EdGEO and the Department of Earth Sciences Teacher Professional Development Fund, are able to keep participants fees low. This year the cost is $250 for the week, which includes accommodation, transportation to and from Carleton University, daily excursions and most meals.
This course is open to educators from K-12, in-service and pre-service, all levels of expertise and experience who teach science or physical geography. Space is limited to 10 participants.   
We are accepting applications for July 5th to 11th, 2020. See above for links to the application form and information sheet.
For more information please contact:
Beth McLarty Halfkenny
Outreach Coordinator
Beth [dot] McLartyHalfkenny

carleton [dot] ca
Tel: (613) 520-2600 ext. 8520